Here at Manurewa West Primary School, the Junior teachers are a team of caring, enthusiastic, highly skilled professionals passionate about student learning.  Our goal is for all students to reach their full potential ensuring success for each individual.
As a team, we put effort into creating fun and engaging environments that make students love coming to school.  We have a strong focus on creating warm, friendly relationships with our students so they feel supported, happy and safe at all times.  Our goal is to build a strong base in Literacy and Numeracy to ensure students leave the Junior school with strong foundations for future learning.  We have high expectations for all students and this is reflected through our challenging, child-centered programmes.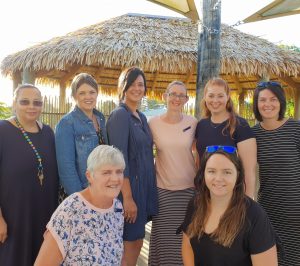 From top left: Leskin Lambert, Stacey Madden, Torre Thompson, Erica Adkins, Jessica Codling, Shea Bowden (Team Leader)
From bottom left: Tina Voordouw, Emma Riley.
Introducing our team:
Mrs. Erica Adkins – Room 8, New Entrants
Kia Ora Kotou my name is Mrs Erica Adkins. I am teaching a growing class of inquisitive New Entrants in Room 8. I have recently returned from maternity leave with my youngest child Laura. In addition to Laura, I have two older children, Katy who is almost five and Frankie who has just turned three. In 2018 I graduated with honours in Education. Successful transitions from Early Childhood Education to Primary School is extremely important and I strive to make these seamless and as least stressful as possible. I look forward to meeting both you and your children and welcoming you to Manurewa West Primary School.
Stacey Madden – Room 9, Year 2
Kia Ora, ko Stacey Madden ahau. I am the proud year 2 teacher in room 9. I am thrilled to be a part the growth and development of these bright-eyed beautiful tamariki who have been placed in my care. I have a degree in psychology and anthropology, and a post graduate diploma in primary teaching. For the last 2 years I have been teaching in an early childhood setting which has broadened my experience of teaching. One of my areas of strength is my creativity; I enjoy making new resources and exploring different ways to get students engaged and excited about learning. I look forward to meeting and working with you this year!
Torre Thompson – Room 7, New Entrants
Kia Ora. My name is Torre Thompson. I have a Bachelor's Degree in Early Childhood Education in which I have been working for the past 6 years. Broadening my horizons in education I have been fortunate enough to join the awesome Manurewa West Primary School team and am working in Room 7 with a new entrant/year 1 class. I have grown up in Manurewa and also attended Manurewa West Primary School as a student. I look forward to meeting the families of all my students. Feel free to come see me if you have any questions about your child's learning.
Leskin Lambert – Rm 11, Year 2
Kia Ora – my name is Leskin Lambert and I am surrounded by the "best of the West" in Room 11 (Year 2's). I was born in South Africa but am proudly a New Zealand citizen. This is my 26th year as a teacher and I have my Honours in Education. I am thrilled to belong to such a caring and compassionate school community. Each day at Manurewa West has been filled with much joy and self-fulfillment. I look forward to many happy years growing as a teacher and getting to know the families of the wonderful children I teach. My family is important to me and this school certainly has given me a sense of belonging.
Emma Riley – Rm 13, Year 2
Hi, my name is Emma Riley and I'm the a year 2 teacher in Room 13. I have recently graduated from the University of Waikato with an Arts Degree and Diploma in Teaching. I am looking forward to meeting my students and catering to their needs in all major curriculum subjects. I have a passion for teaching the Arts and I look forward to seeing the creative side of your students.  I look forward to meeting you, and your children!
Tina Voordouw – Rm 5, Year 1/2
Greetings! I am Tina Voordouw working with a lively group of Year 1 & 2's in Room 5. Our little ones are acquiring wonderful Reading, Writing and Maths skills and it is exciting to be part of their progress. When I am not at school I enjoy spending time with my awesome daughters: Abi who is a Librarian, and Lainee – another Teacher. I also love the bush and the beach which means time out at Maraetai or in the Hunua Ranges.
Jessica Codling – Rm 6, Year 1
Hello I'm Jessica Codling and I am the teacher in room 6 teaching year 1. I have a degree in Fashion and Art. I started my career working in Early Childhood settings and have 7 years' experience before doing my post graduate and teaching in schools. I am very excited to be part of the team here at Manurewa West. I have recently moved to the beautiful Aotearoa from the UK. I have been here 5 months and already explored many things. There is still plenty to do on the list! I look forward to growing as a teacher and be part of the community here at Manurewa West. I'm excited to see your children grow, learn and play this year as they start their school journey.