The Middle School is a time of transition to independent learning. Our children are encouraged to think, ask questions and explore possibilities at this stage, understanding that they can be teachers as well as learners. We use Thinker's Keys at this level, which helps our children develop their creativity and thinking skills.
We encourage parents, with children in Middle School to help them take responsibility for their learning in class and at home. Enthuse curiosity by helping them ask questions and to create projects for themselves. Ask them to explain what they are learning to you, including their next steps and long-term goals.
Along with extending our children's learning, the Middle Team cares about them reaching their potential in all areas. The School Values, teamwork and acceptance of others are of equal importance to us because we want our children to grow up to be happy, healthy and positive members of Society.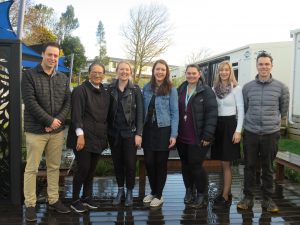 From Left: Mr. Lee Stewart, Mrs. Mariata Brooking, Ms. Michalla Thomson, Miss. Sayers, Miss. Lorraine Turu, Mrs. Antonette Botha, Mr. Christian Clarke
Lee Stewart (Team Leader)- Room 23, Year 3/4
Hello everyone, my name is Lee Stewart and I am the year 3 teacher in Room 23. It feels great to be back at Manurewa West after two years back home in Canada. I am passionate about education and believe that in order for a child to succeed they must feel happy and safe within the classroom. Outside of school I enjoy spending time with family, being outdoors and traveling the world
Lorraine Turu – Room 24, Year 3/4
Kia Ora my name is Lorraine Turu and I teach in Room 24 with a beautiful class of Year 3/4 students. I am looking forward to teaching our Middle School Maori Enrichment for its second year. I believe that every child must be treasured for who they are and I will endeavour to provide each child with skills to allow them to grow and become very special individuals. I have an open door policy for our room, so for any concerns, please do not hesitate to come and see me – about anything at all.
Christian Clark – Room 16, Year 4
Greetings. I am very pleased to be teaching year 4 again in the middle school team. I look forward to having another positive, rewarding year and building on the happy experiences I've already had at Manurewa West Primary School. Please feel welcome to talk with me about any concerns you might have.
Jane Reading – Room 14, Year 3/4
Hi there! I'm Jane Reading. Please feel free to drop in to Room 14 before or after school to talk about all of the exciting things happening in class.
Antonette Botha – Room 25, Year 4
Hi there! I am so excited to be part of Manurewa West's Middle School team. I am fresh off the boat from South Africa, having arrived in New Zealand in April 2018. I really enjoy spending time with the wonderful Room 25 every day. Our daily focus is on the main curriculum areas of Reading, Mathematics, and Writing, as well as the lesser known (but equally important) areas of having fun and making learning interesting. My purpose is to nurture and challenge my students  every day to be the best possible version of themselves. I believe in having a comfortable and familiar daily routine to make all students feel safe and cared for. On the weekends I enjoy spending time with my family, reading, and exploring beautiful New Zealand.
Michalla Thomson – Room 15, Year 3/4
Kia Ora. I am new to Manurewa West Primary School and am excited to be teaching year 3 and 4 in the middle school team. I have taught in Christchurch for the last 3 years and then spent 5 months overseas. During my time overseas i taught for 2 months at a school in Uganda. I look forward to having a positive and fun two terms in Room 15. If there is anything you would like to share with me about your child, feel free to pop in and let me know.
Rachel Sayers – Room 20, Year 3/4

Kia Ora my name is Rachel Sayers and I am the proud teacher of Room 20 this year. I am originally from Manurewa but have moved around NZ and taught in a few different schools. During my teaching career I have studied collaborative teaching and taught in collaborative spaces where we have had 60 + students. This year I am excited to get to know the students in Room 20 and see them grow to their full potential.