Senior school is made up of dynamic and passionate teachers who believe that our students here at Manurewa West, really are the best and can achieve anything!
Teaching and learning through inquiry is our main focus, allowing students to work both collaboratively with others while developing their independence skills as they get ready for the transition of Primary to Intermediate.
An active approach to learning is our philosophy, keeping our students engaged and loving school. We have high expectations of our students and provide all the support they need to excel and be the very best they can be.
In Years 5 and 6, our students are exposed to a range of opportunities in sport, culture and the arts encouraging them to develop strengths in a range of areas.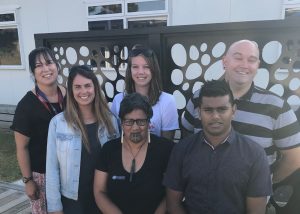 From Left: Mrs. Bernadette Logo, Miss. Kendal Orr, Mrs. Kohu Tongaawhikau, Mrs. Erica Taylor, Mr. Shadrach Babu, Mr. Owen Dilling
Mrs Erica Taylor – Room 4, Year 5/6
Hello, my name is Erica Taylor. I have been at Manurewa West Primary School for a around 5 years now and am currently in Room Four with a class of awesome year 5 and 6 students. I love teaching at our school and look forward to getting to know my new students and their families. Please feel free to pop in anytime to have a chat about your child and their learning.
Miss Kendal Orr – Room 3, Year 5/6
Kia ora, Malo e lelei, Talofa, Kia orana, Bula vinaka and welcome! My name is Kendal Orr and I have been teaching at Manurewa West Primary School for about  5 years. I am teaching Year 5 and 6 in Room 3 and look forward to having a wicked year.  My main passion within teaching is building positive and effective relationships with the students and their families, and believe this is an important part of a strong education.  This year will be a positive challenge for the students and I as together we embark on a journey of lots of learning and successes. Come in and say hi!
Mr Owen Dilling – Room 22, Year 5/6
Kia ora, bonjour, guten tag, buenos dias, borre dda and hello, I'm Owen Dilling from the UK and I'm the teacher in Room 22. My family are all, or have all been, school teachers and I am proud to follow in their footsteps. Although new to the school, I've been a Primary School Teacher for 6 years now and I am super excited to be in New Zealand and teaching at Manurewa West Primary School. My previous classes have all been in Year 6 and I look forward to bringing my skills, energy and experience to Auckland. I love teaching and my aim is to provide a stable, nurturing and loving environment for your wonderful children to grow. I retrained to be a teacher after working for nearly 20 years as a Chef, Restaurant Manager and Franchisee for a very well-known food brand. Outside of teaching, I love to cook, play guitar and explore the world and I can often be found fishing, canoeing or just chilling in the great wide open spaces that New Zealand offers. I am an avid sports fan with a keen interest in rugby, athletics and football. Please feel free to drop by and say hi,
Mr Shadrach Babu – Room 21, Year 5/6
I am so delighted to be teaching at Manurewa West Primary School. I believe that students are naturally social beings and learn best from each other. I am looking forward to getting to know the class and their families this year. Room 21 are an energetic and creative bunch. Apart from teaching, I love playing soccer, touch rugby and lawn bowls. Please feel free to come in and talk with me or to see your child's amazing work.
Mrs Kohu Tongaawhikau – Room 1 Year 5/6 Teacher
Teenaa koutou katoa,  My name is Mrs Kohu Tongaawhikau. I have taught in Mainstream and Bilingual for 3 years and 8 years in Kura kaupapa.  My outside interest is being able to judge every 3 years in Taranaki for the regionals, National Matatini kapahaka. I have 4 beautiful granddaughters and one is currently attending Manurewa West Primary School. I also believe students can have a teacher who can give them a positive experience in their early school years so they can develop a love for learning and an understanding that learning is a life-long journey of achieving dreams and goals. Nau mai haere mai  please feel welcome to call in and see me.
Mrs Bernadette Logo – Room 1 Year 5/6 Teacher
Talofa Lava, I am Mrs Bernadette Logo and I am the Bi-Cultural teacher in Room 2. I am looking forward to incorporate aspects of Samoan and Pasifika as part of the Curriculum. I have an 'open door' approach whereby you are more than welcome to discuss any concerns about your child or just pop in for a conversation. Faafetai Lava.